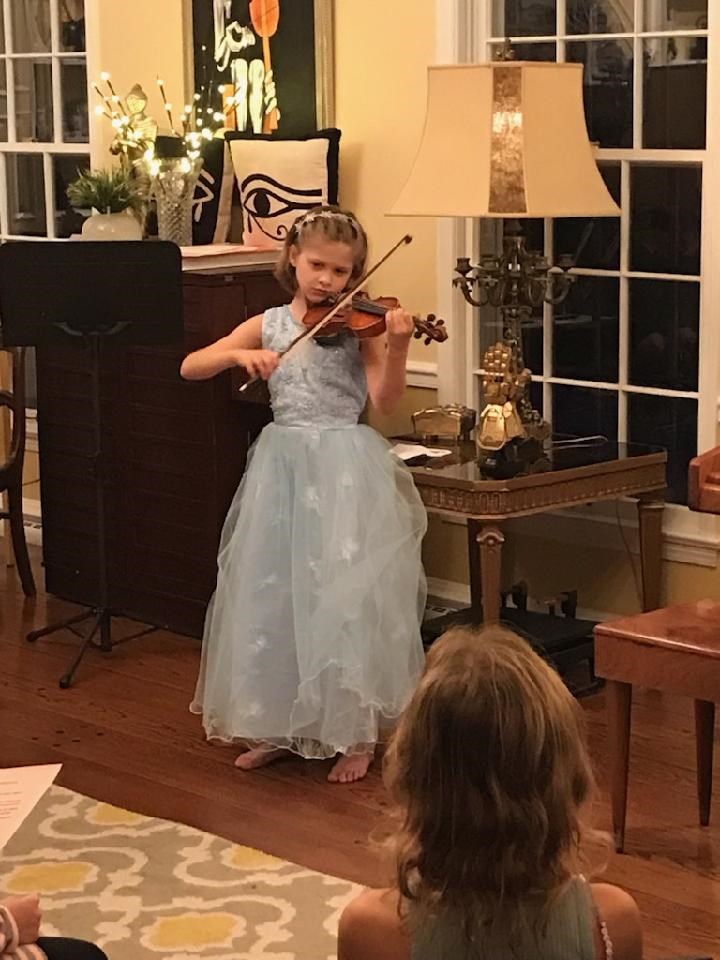 EXPECTATIONS:
Parents/guardians of students under the age of 12 are expected to attend all lessons, take lesson notes in a notebook or on a smartphone, video recorder, or other device, and practice daily with their child at home. Older students should have a dedicated lesson notebook in which they can write assignments every week.
Learning music is much like learning a language, and the recordings that are provided with the Suzuki books should be listened to every day. For students no longer in the Suzuki books, I highly recommend listening to multiple artists playing your pieces.
Remember, you get as much out of lessons as you put into practicing at home! Consistency is key. Daily practice will allow the student to gain mastery of their lesson material and confidence on their instrument.
For students who are participating in the group classes with the Cleveland Center for Suzuki Studies, please make a commitment to regular attendance. There is a great deal to gain from regular attendance, but going only once in a while is disruptive to the group dynamic and the student will gain little from limited participation.
SCHEDULE:
Each student will receive regular weekly lessons during the school year from September through May. Lessons will be available via Sign-up Genius from August 22-September 3rd, and the regular school year schedule will begin starting September 6th.
There are no lessons over Thanksgiving (November 23rd – 27th) and there is a winter break from December 22nd – January 3rd. Spring break is March 27th - April 2nd. A detailed calendar will be sent with all info, including group class dates. Regular weekly lessons will end on June 3rd.
Two studio recitals will be taking place this year! The dates are Sunday, November 13 and Saturday, May 20th, both at 3 p.m. at Garfield Memorial Church (3650 Lander Road, Pepper Pike). Please save the dates!
Summer lessons are encouraged and are scheduled on a per-lesson basis. I will provide more information towards the end of the school year.
TUITION:
Tuition includes weekly private lessons, group classes, and two recitals (there will be a small fee that goes towards the pianist). A $50 registration fee per family will be billed at the beginning of the academic year to hold your lesson spot for the year.
There will be a one-time $30 fee per child to Shanelle Cook (the pianist for the Cleveland Center for Suzuki Studies) for those participating in group classes.
Payment is due for each month of lessons by the first lesson of that month (i.e. November's lesson payment is due on November 1st). There is a $15 fee for late payments. Payment can be made by cash, check payable to "Erin Reidhead," or through Venmo, Zelle, or Paypal (please add 3%).
30-minute lessons: $35 per week
45-minute lessons: $52 per week
60-minute lessons: $70 per week
ATTENDANCE:
Like other professional services, Erin Reidhead Violin Studio reserves a specific day of the week and time slot for your lesson (per the Academic Calendar) which I am unable to fill in your absence. For this reason, I do not provide refunds or make-up lessons for student absences which include, but are not limited to: travel, school, sports, and illness. In the event that you are unable to make your in-person lesson, I encourage you to use your lesson time in one of the following ways: requesting an online lesson, switching lesson times with another family, or by providing a self-recording (before your lesson time) that your teacher may use to provide feedback during your lesson slot .
In the case of a faculty absence, a make-up time will be offered or a lesson credit will be given. I am an active performer, and there are occasional conflicts with my teaching schedule. I will let you know of these conflicts in advance. If a student is absent from a make-up lesson, that lesson will be considered a student absence and will not be refunded.
In the event of inclement weather, I will follow the decision of the Orange Schools. If the schools are closed or had an early closing, there will be no in-person lessons that day. I will confirm weather cancellations via email or text. Lessons will move to a remote option on those days.